পশ্চিমবঙ্গ সরকারের স্বাস্থ্য ও পরিবার কল্যাণ দপ্তরে স্টাফ নার্স গ্রেড ২ পদে ৮ হাজার ১৫৯ জন ছেলেমেয়ে নিয়োগ করছে ৷
Only online registration of Application shall be allowed on the website ( www.wbhrb.in) between 19.07.2019 to 29.07.2018(before 8 PM).
Qualification: (1)(a) Indian Citizen. (b)General Nursing and Midwifery/ Basic B.Sc. (Nursing)/ Post Basic B.Sc. (Nursing) course passed from any Nursing Training School/College of Nursing recognized by both Indian Nursing Council and Respective State Nursing Council. (c)Registration as Female/Male Nurse Midwifery from West Bengal Nursing Council.(d)Knowledge of Bengali/Nepali- Spoken and written
Scale of Pay: Rs. 7,100/- – 37,600/- [Grade Pay – Rs. 3,600/-]. Dearness allowance is as per Government norm. Higher initial pay is admissible with Rs. 7680:– Uniform, Washing and amenity allowances as admissible.
Age: Between 18 & 39 Years of age as on 01.01.2019, Relax-able for Schedule Caste/ Schedule Tribe/Other Backward Classes and person with disabilities as per Government Rules and Orders, etc in force. 33% of the post of Staff Nurse, Grade II shall be filled up from regular B.Sc. passed female candidates, 2% from regular Post Basic B.Sc. Nursing passed female candidates, 65% from General Nursing and Midwifery passed candidates amongst which 90% from General Nursing Midwifery passed female candidates and 10% from General Nursing Midwifery passed male candidates.
Fee:Candidates must submit online the application fee amounting to Rs. 210/- (Rupees two hundred ten only) through GRIPS (Govt. Receipt Portal System), Govt. of West Bengal.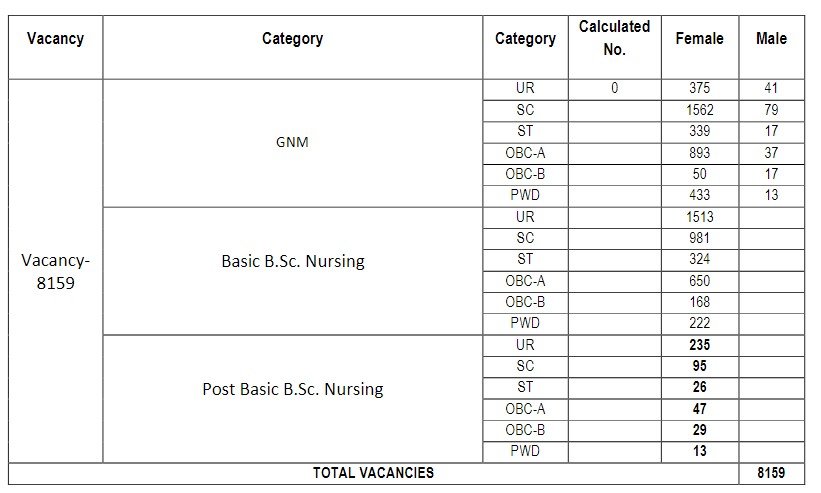 CLOSING DATE FOR ONLINE REGISTRATION OF APPLICATION : ( before 8 PM ) Applicants need not send any Print out/ hard copy.
Important Dates: Website Link open –For on-line Registration of Applications 19.07.2019 to 29.07.2019(before 8 PM)Last date of full submission of Form29.07.2019 (before 8PM)
Note: -Candidates are advised apply Online only much before the closing date and not to wait till the last date to avoid congestion on Web-Server on account of heavy load on internet/website.Candidates are requested to follow the website (www.wbhrb.in) time to time for any update information