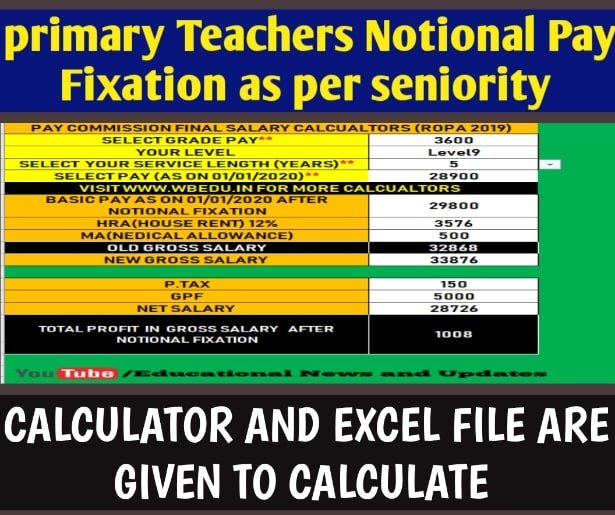 ALREADY 6TH PAY COMMISSION ARE APPLIED IN WEST BENGAL . BUT THERE ARE SOME SERIOUS PROBLEM . BEFORE PAY COMMISSION ,PRIMARY TEACHERS ARE GETTING A GRADE PAY HIKE AS ON 01.08.2019. 
BUT WHEN PAY COMMISSION APPLIED TO THEIR SALARY ,SENIORITY WAVE.AS AN EXAMPLE JOINING OF 2014 PRIMARY TEACHERS AND 2017 PRIMARY TEACHERS ENJOYED SAME SALARY NOW.
SO AS NEWS ARE CIRCULATED IN VARIOUS NEWS ARTICLE,GOVT MAY GIVE INCREMENTS IN  SENIORITY BASIS . STARTING FORM 5 YEARS OF JOBS EXPERIENCE WILL GET 1 INCREMENT. 10 YEARS OF JOBS EXPERIENCE WILL GET 2 INCREMENTS. 15 GET 3 AND SO ON . BUT NEWS RUMORS  ALSO SAID THERE WILL BE MAX 5 OF SUCH INCREMENTS WILL GET BY A PRIMARY TEACHERS . 
TENTATIVE CALCULATION ARE GIVEN BELOW .
DISCLAIMER : THIS CALCULATION ARE TOTALLY BASED ON ASSUMPTION . SO BEHAVE AND THINK ACCORDINGLY .