In view of Lock Down imposed by the Government due to COVID-19 the ongoing Advt. Nos. 1 of 2020 and from 5 to 12 of 2020 of Different Category of posts under Kolkata Municipal Corporation, Advt. No. 2 of 2020 under Gazoldoba Development Authority, Advt. No. 3 of 2020 under Furfura Sharif Development Authority and Advt. No. 4 of 2020 Pathar chapuri Development Authority, the Last Date for Registration for On-Line Application which were scheduled to 07.04.2020 & 15.04.2020 respectively is hereby extended up to 15.05.2020 .

কোলকাতা পুরসভার প্রাথমিক স্কুলের শিক্ষক নিয়োগের জন্য বিজ্ঞপ্তি প্রকাশিত হয়েছিল তাঁর নাম্বার ছিল-
| | |
| --- | --- |
| Advertisement No. – 10 of 2020 | Recruitment Examination, 2020 for the post of Teacher (English), Teacher (Hindi) & Teacher (Urdu) under Kolkata Municipal Corporation. |
কারা আবেদন করতে পারবেন সেটা দেখতে এখানে ক্লিক করুন ।
অনলাইনে আবেদন করা যাবে ১৫ই এপ্রিল অব্দি(আগে অন-লাইন আবেদনের জন্য সময়সীমা ছিল যথাক্রমে 07.04.2020 এবং 15.04.2020 তারিখ পর্যন্ত)। অ্যাপলিকেশন ফি এর সঙ্গে ডিপোজিট চার্জ ব্যাঙ্কে জমা করতে হবে। যা জমা করা যাবে ১৮ই এপ্রিলের মধ্যে এবং অনলাইনে অ্যাপলিকেশন ফর্ম সাবমিট করতে হবে ১৯শে এপ্রিলের মধ্যে। এই নিয়ে আপনারা বিষদে জানতে www.mscwb.org ওয়েবসাইটে ভিজিট করুন। নীচে উক্ত নোটিশটি দেওয়া আছে সেটা দেখে নিতে পারেন।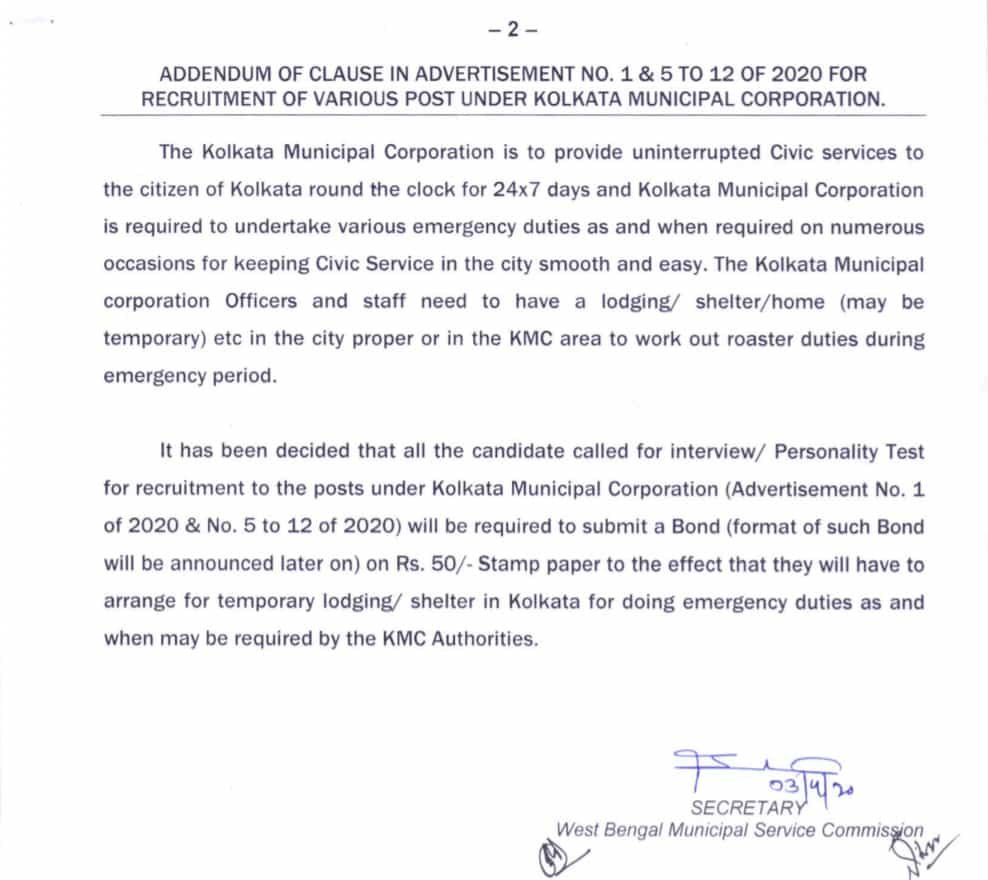 TO DOWNLOAD CLICK BELOW↓
[su_button id="download" url="https://www.mscwb.org/home/download/UmIrZkQyR25PcEtYMlpJSDlsdnVSazJQL25ycUJhbW82anhDbHNxKzZUZWwyU24xRU8ycGFvQVpqNVdIWGdjaHhLaDE5V2hFd1M0bDZNWStuRW1TUGJQWDJPRjBxcHNzdHpIT1cxNUZ3N1lFejBBalk5QW91bkRNeVZybm5EVmM=" target="blank" style="3d" background="#1a1b1d" color="#fef02b" size="9″ wide="yes" center="yes" icon_color="#ffffff" text_shadow="0px 0px 0px #f392aa"]CLICK HERE TO DOWNLOAD [/su_button]
আরও পরুনঃ-থমকে শিক্ষক নিয়োগ,অনিশ্চিত ভবিষ্যৎ,আদৌ হবে TET, আপার?
প্রাইমারি কোর্ট কেস এবং নিয়োগ আপডেট