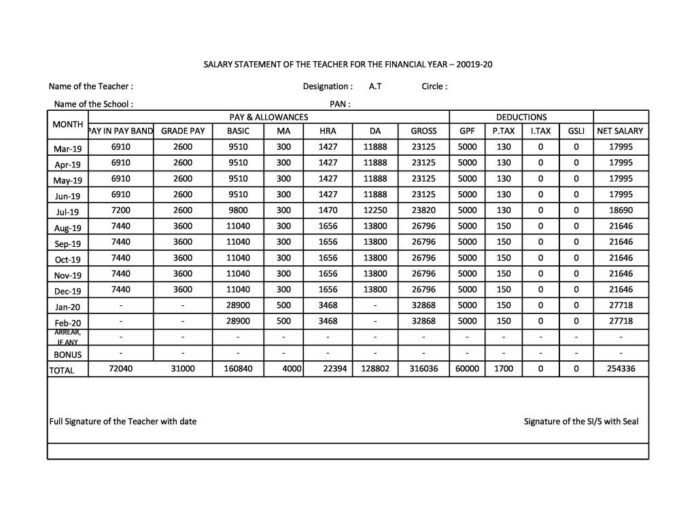 NOW WEST BENGAL EMPLOYEE GET PAY COMMISSION HIKE SALARY . SO ITS VERY IMPORTANT TO KEEP RESERVE ALL SALARY STATEMENT  INFORMATION IN ONE PAGE FOR  THE FINANCIAL YEAR 2019 2020 FOR SCHOOL TEACHERS IN WEST BENGAL  . SO WE JUST TRY TO PROVIDE A TABLE FOR YOU WHERE YOU CAN PRINT OUT AND PUT YOUR DATA . AFTER THAT YOU CAN RESERVED IT FOR YOUR FUTURE NEED .
TO JOIN OUR FACE BOOK PAGE FOR LATEST DA,PAY COMMISSION AND GOVT NOTICE CLICK BELOW
–: CLICK HERE (এখানে ক্লিক করুন) :–
DEMO INPUT DATA ARE SHOW HERE FOR PRIMARY SCHOOL TEACHERS . ALL PRIMARY AND HIGH SCHOOL TEACHERS CAN PUT THEIR DATA FOR FUTURE RESERVED OR REFERENCE.
FOR DOWNLOAD AND PRINT LINK ARE PROVIDE BELOW
FOR SALARY CALCULATORS AND SALARY PRINTOUT LIKE GPF,PF,INCOME TAX,SALARY CALCULATION CLICK BELOW LINK
FOR WBSSC RECRUITMENT AND COURT CASE NEWS CLICK HERE
MORE PAY COMMISSION SALARY CALCULATORS CLICK HERE
MORE PAY COMMISSION NEWS CLICK HERE
LATEST DA NEWS CLICK HERE
PRIMARY SCHOOL TEACHERS SALARY CALCULATORS CLICK HERE